Collection: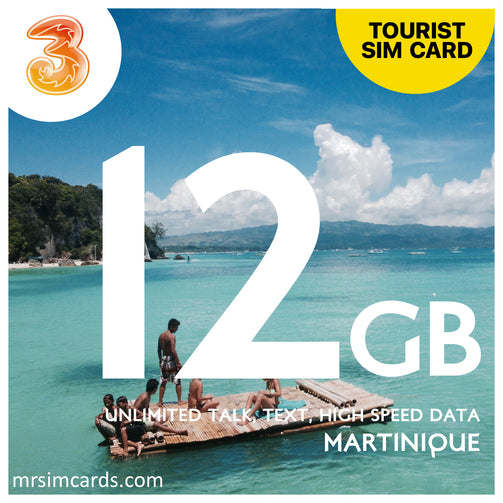 Collection:
Martinique Sim Card - 3UK - 12GB
Martinique Sim Card - 3UK - 12GB
Regular price

Sale price

$ 30.00
The 3UK Sim is at home in the USA, United Kingdom and it rocks in Martinique.
Put this 3in1 sim into your Smartphone and use the included data to stay connected to those that matter the most.  There are no roaming charges to consider when you use this sim card in included countries. Enjoy unlimited talk and text to UK numbers and huge data bundles.  
This sim is perfect for your unlocked Smartphone. Get it before you go to Martinique and be connected while on vacation without roaming fees.
With our 3UK sim, you will get: 
- Unlimited Talk minutes to UK numbers.
- Unlimited texts to UK numbers.
- High Speed Data with hotspot / tethering.  (12G)
- Service is valid  up to 30 days and can be renewed.
- Unlimited Free Incoming calls and texts.
- 3 in 1 (Triple Cut: Nano, Micro, Mini) Sim.
This is an excellent choice for a your trip to the Martinique 
This sim is easy to use. 
Thats why we love it.
| | | | |
| --- | --- | --- | --- |
| Plan | Talk / Text | Data  | Cost (USD) |
| #1 | Unlimited | 12GB  | $30 |
Place your sim order. It ships same day. 
- Advise us your travel date and we will activate your service and add data. 
- Get setup before you travel and start talking & surfing when you land. 
- This sim roams works in Martinique and 71 countries so you can test it before you go.
Hotspot and tethering is supported. This sim card supports 3G/4G/5G data connections based on device capability and network availability. Bring an unlocked smartphone for the best service possible.

Use this sim with your social connections (SWIFT) - Snapchat, WhatsApp, Instagram, Facebook, Twitter as well as iMessage, Skype, Google Voice, and Messenger.  It works like a charm.