Collection: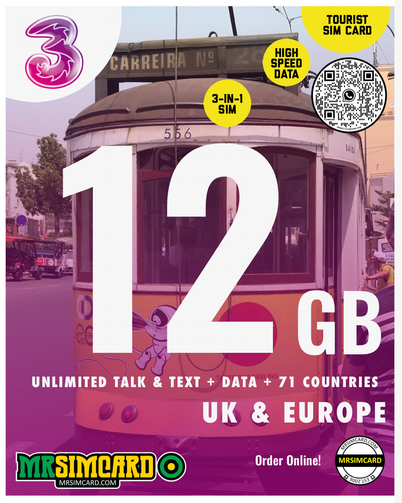 Collection:
European Tourist Sim -3 UK - 12GB/16GB
European Tourist Sim -3 UK - 12GB/16GB
Regular price

Sale price

$ 30.00
Offer is for a 3UK - 3in1 European Tourist sim with 12GB Data

Your Sim Package includes:
- A 3UK 3in1 5G capable Sim Card.
- A Sim tray removal tool. 
- Unlimited talk to UK Numbers from UK and EU Numbers from the EU.
- 12GB data valid 30 Days.
- 16GB in UK

***Add 500 minutes of calls to USA/Canada for $5 more.

It comes with +44 UK mobile number.  Plan is for 30 days once activated.  Enjoy Unlimited talk, text, plus 5GB data.  The 3 UK sim works at up to 3G / 4G / 5G speed in 71 Countries.   Of course this sim rocks all over the UK - England, Scotland, Ireland, Wales... plus 71 Countries.
This is a top seller.
Hotspot and Tethering is allowed.

Go Roam Europe Destinations.
Aland Islands, Austria, Azores, Balearic Islands, Belgium, Bulgaria, Canary Islands, Croatia, Cyprus, Czech Republic, Denmark, Estonia, Finland, France (inc. Corsica, Mayotte & Reunion), French Guiana, Germany, Gibraltar, Greece (inc. Crete & Rhodes), Guadeloupe, Guernsey, Hungary, Iceland, Ireland, Isle of Man, Italy (inc. Sardinia & Sicily), Jersey, Latvia, Liechtenstein, Lithuania, Luxembourg, Madeira, Malta, Marie-Galante, Martinique, Mayotte, Netherlands, Norway, Poland, Portugal, Réunion, Romania, Saint Barthelemy, Saint Martin, San Marino, Slovakia, Slovenia, Spain, Sweden, Switzerland, The Netherlands, Vatican City.
Go Roam Around the World Destinations.
Australia, Brazil, Chile, Colombia, Costa Rica, El Salvador, Guatemala, Hong Kong, Indonesia, Israel, Macau, New Zealand, Nicaragua, Panama, Peru, Puerto Rico, Singapore, Sri Lanka, Uruguay, US Virgin Islands, USA, Vietnam.
Enjoy this one.
mrsimcard