Collection: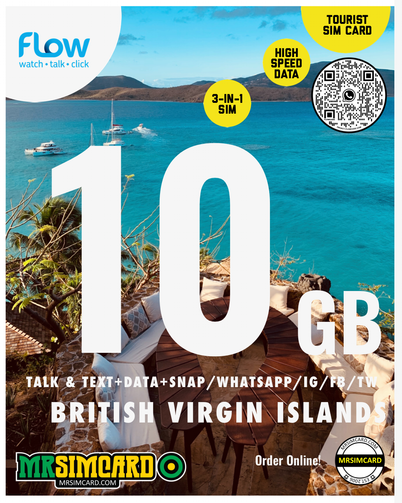 Collection:
British Virgin Islands Sim - 14 days 10GB
British Virgin Islands Sim - 14 days 10GB
Regular price

Sale price

$ 129.00
Flow is the best choice for sailors visiting the British Virgin Islands. Use it to call and text locally. 1000 local mins and 1000 local text messages are included. We also include 10GB of 4G LTE data while in the British Virgin Islands and 3GB extra just for social messaging.   
Order your sim now and get it delivered before you travel. Incoming calls are FREE, Incoming Texts are FREE and data is cheap. There is no good reason you should roam when visiting the BVI. Go Local without roaming fees.
 The 3GB Plan:
| | | | | |
| --- | --- | --- | --- | --- |
| Plan | Talk | Text | Data  | Cost (USD) |
| 14 Day | 1000 | 1000 | 10GB | $129 |

The Flow BVI  Day Sim includes:
- Unlimited Free Incoming calls and texts on your British Virgin Islands 284 number
- Local Anywhere Talk and Text to Any Network.  Call to any BVI number, USA, USVI, PR, Canada, UK landlines and any Flow number in the Caribbean
- 3GB for Social Media - Snapchat, WhatsApp, Instagram, Facebook, Twitter
- 10GB of High Speed 4G LTE Mobile Internet.
- Free included Sim Tray Removal Tool.
- Hotspot is included

3GB for 
Social messaging means that Snapchat, WhatsApp, Instagram, Facebook and Twitter use is not deducted from your 10GB inclusion.
Use Flow British Virgin Islands 4G LTE data to surf the web from your unlocked smartphone.  Get your sim card before you go and you'll be connected the moment you land in Road Town.
**Note - When we process your order we will email you asking for your arrival date in the BVI's so we can schedule activation.
APN - ppinternet.
We ship worldwide, and Marina delivery is possible.