Collection: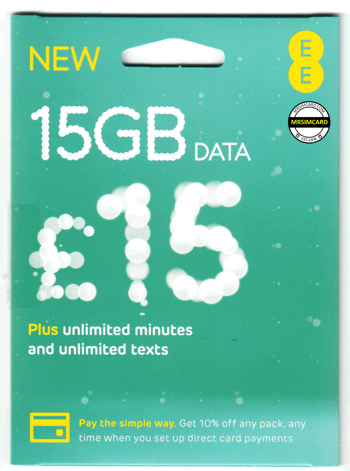 Collection:
EE UK Sim Only 15GB
EE UK Sim Only 15GB
Regular price

Sale price

$ 7.99
What is "Sim Only". This is a broad area and generally it means that you must add credit, activate or swap the number to use it. We can help with that.

If you have questions - Just ask! We are happy to answer.
The EE UK sim is the perfect choice for travel to the UK and beyond.  EE has the most reliable 4G and now 5G network in the UK.  Hold onto your hat.  It is Fast.  

**Note - This sim requires that you visit the UK for activation first before onward travel to Europe. Topup with £15 to begin use.
Inclusions:
- 15GB of 4G  / 5G Data
- Unlimited minutes to call within the UK
- Unlimited UK text messages
- Unlimited EE to EE calls and text
You can take your pack allowances with you to 48 destinations across Europe. Your phone should already be set up for roaming so you don't need to do anything.

If you use up your pack allowances while you're abroad, simply buy a new pack or add-on just like you would in the UK. Add-ons are the same price across the UK and EU.

The destinations covered are Austria, Azores, Belgium, Bulgaria, Croatia, Cyprus, Czech Republic, Canary Islands, Denmark, Estonia, Finland, France, French Guyana, Germany, Gibraltar, Greece, Guadeloupe, Guernsey, Hungary, Iceland, Ireland, Isle of Man, Italy, Jersey, Latvia, Liechtenstein, Lithuania, Luxembourg, Madeira, Malta, Martinique, Mayotte, Monaco, Netherlands, Norway, Poland, Portugal, Reunion Islands, Romania, San Marino, Saint Martin (French), Saint Barthelemy, Slovakia, Slovenia, Spain, Sweden, Switzerland and Vatican City (Italy).

Note: Turkey (you may connect to a Turkish network in Northern Cyprus) and Andorra are outside the EU/EEA and not included in our European Roaming Zone.

***Note - This sim requires that you begin use in the UK before travel to the  48 Euro Pack Destinations.


Lets Get Started:
1. Pop your new sim into your phone.
2. Add £15 for this selected pack.
3. Call text or use data to start your pack. Packs last 30 days.
What if I finish my pack early:
If you use up any of your allowances, you can start a new pack early. Check you have enough credit and then text NOW to 150. We'll remove your current pack and replace it with a new one.