Collection: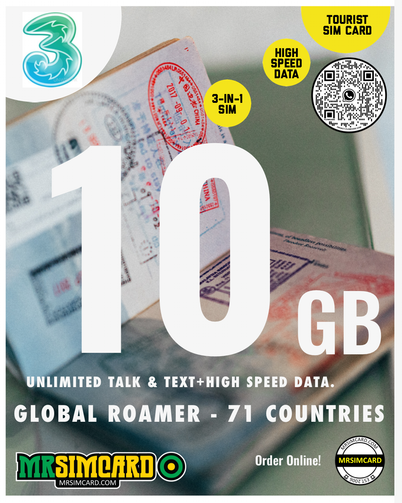 Collection:
Asia Sim Card 3UK - 10GB
Asia Sim Card 3UK - 10GB
Regular price

Sale price

$ 30.00
The 3UK Sim is at home in Asia.. There are no roaming charges to consider. Enjoy unlimited talk and text and 10GB data.  This sim is perfect for your unlocked Smartphone... i.e. Canadian customers, USA Verizon customers.  It is a no brainer.  The Data is fast and you are connected before you leave home.  

With this sim, you get: 
Unlimited Talk minutes to EU numbers.
Unlimited texts to EU numbers.
High Speed Data with hotspot / tethering.
30 days validity and can be renewed.
Unlimited Free Incoming calls and texts.
3 in 1 (Triple Cut: Nano, Micro, Mini) Sim.

This is the best choice for a your trip to Asia. This sim is easy to use. Thats why we love it.
| | | | |
| --- | --- | --- | --- |
| Plan | Talk / Text | Data  | Cost (USD) |
| #1 | Unlimited | 10GB | $30  |
| | | | |

Place your sim order. It ships same day.
- Advise us your travel date and we will sort it out for you.
- Get setup before you travel and start talking & surfing when you land.

Hotspot and tethering is supported. 3UK supports high speed data connections.
3UK Asia Countries.
Australia, Hong Kong, Indonesia, Macau, New Zealand, Singapore, Sri Lanka, Vietnam.

3UK Go Roam destinations.
Uruguay, US Virgin Islands, USA, Nicaragua, Panama, Peru, Puerto Rico,  Brazil, Chile, Colombia, Costa Rica, El Salvador, Guatemala, Aland Islands, Israel, Austria, Azores, Balearic Islands, Belgium, Bulgaria, Canary Islands, Croatia, Cyprus, Czech Republic, Denmark, Estonia, Finland, France, French Guiana, Germany, Gibraltar, Greece, Guadeloupe, Guernsey, Hungary, Iceland, Ireland, Isle of Man, Italy, Jersey, Latvia, Liechtenstein, Lithuania, Luxembourg, Madeira, Malta, Martinique, Norway, Poland, Portugal, Réunion, Romania, Saint Barthelemy, Saint Martin, San Marino, Slovakia, Slovenia, Spain, Sweden, Switzerland, The Netherlands, Vatican City.